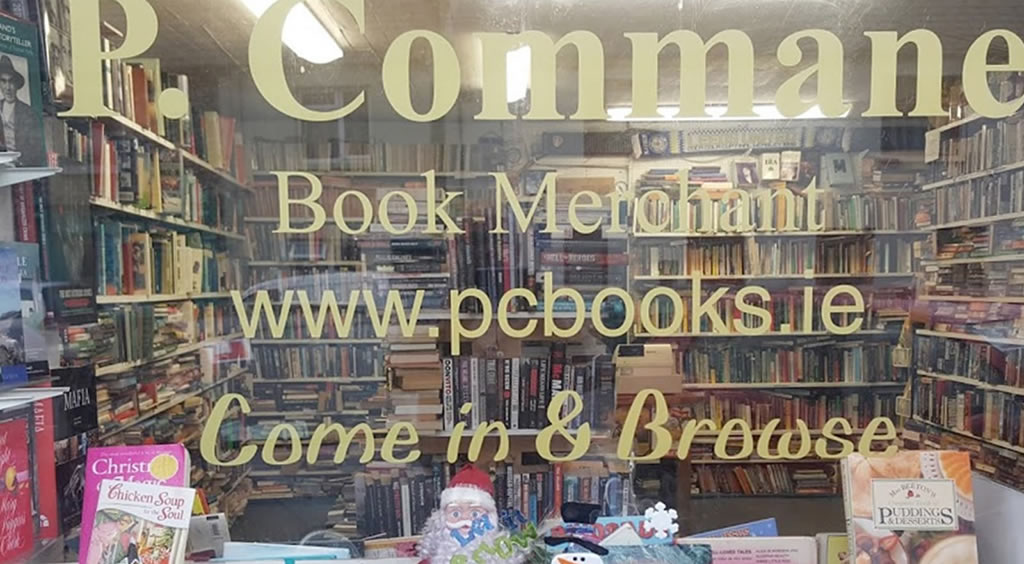 We are an independent bookshop that specializes in books including vintage books, first editions, signed books, rare books, magazines, comic books and much more. We have an eclectic selection of books covering most genres.
Shop History
Our family has operated a business from our premises at 83 Rock Street, Tralee, Co Kerry since 1953. Originally my parents purchased a bar, called The Yank Murphy's in 1953. In 1960 the bar was closed and my parents changed direction and opened a hardware shop. My father traded as P Commane Hardware Merchant.
The hardware shop was in operation until 2001, when my father retired. Then in March 2017, I opened the secondhand book shop.
The Bookshop
We are the biggest second hand bookshop in the Tralee area. We specialise in unusual and quirky titles. We offer an ordering service for out of print, rare and unusual books for customers that is second to none.
During the past two years we have built up a loyal and expanding customer base.  Many people come in and browse our extensive collection of boks. There is no obligation to buy.
All Types of Books
Books of all hues are stocked; from the latest Cecelia Ahern, Lee Child, Michael Connelly, Paulo Coelho to P G Wodehouse, George Orwell, Roddy Doyle to name but a few. We also have a large non-fiction section from Politics (Irish, European & World) to the World Wars. Sport is very important, and we carry an extensive selection. We have a large supply of vintage Penguin paperbacks.
SCI FI & Fantasy books are very popular. We have extensive stock of both genres.
Mindfulness and Spirituality have come back in vogue in recent times. We have sections devoted to both topics.
We also have a large stock of Children's Books. These are very keenly priced. Children are encouraged to make their own discoveries while their parents are free to browse the books in the other sections of the shop.
Book Ordering
If you have a special interest and you cannot find that special book, please fill out our book request form. We maintain extensive customer requirement file. We are happy to notify you when a particular item of interest to you becomes available.
If you can't find what you like, please fill out our off-line search form. We will happily search our off-line inventory, other book sellers for you. We also provide a book buying service. If you do not have an account with on-line sellers, we are happy to purchase the book on your behalf. We will charge a small commission for this service.
SHIPPING TERMS
Shipping rates are based on an average 1 kilo (2.2 pounds) parcel. Charges for lighter items will be less. For sets and heavier items, the charge will be more. We will contact you and agree the cost of the books and transportation before processing payment.
FEEDBACK
We welcome customer feedback and comments. We are constantly trying to provide a better service to you our customers. Your input would be greatly appreciated. You may contact me by phone 086 8296583 or by email info@pcbooks.ie