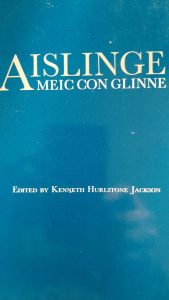 Aislinge Meic Con Glinne ( The vision of Mac Conglinne) is a Middle Irish tale of anonymous authorship. It is generally believed to have been written in the late 11th or 12th century.
The book is a parody of the "Vision" genre of religious text, it has been described as the "best major work of parody" in the Irish language.
This edition was edited by Kenneth Hurlstone Jackson.  The book was published in 1990 by the Dublin Institute for Advanced Studies.