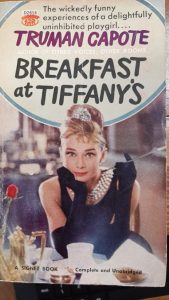 Capote's most famous novella tells the story of Holly Golightly and her adventures in Manhattan. It has now come to light that Holly Golightly was originally to be called Connie Gustafson in early drafts of the story.
Our copy features Audrey Hepburn on the cover.  The photo was taken from the Blake Edward's film of the same name.
It is an American paperback from 1961. There are four stories in all.
The other stories are
House of Flowers
A Diamond Guitar
A Christmas Memory
A rare paperback in excellent condition.