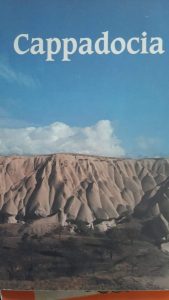 As if plucked from a whimsical fairy-tale and set down upon the stark Anatolian plains, Cappadocia is a geological oddity of honeycombed hills. The towering boulders are of otherworldly beauty.
The fantastical topography is matched by the human history here. People have long utilised the region's soft stone, seeking shelter underground. Thus  leaving the countryside scattered with fascinating cavern architecture.
The fresco-adorned rock-cut churches of Göreme Open-Air Museum and the subterranean refuges of Derinkuyu and Kaymaklı are the most famous sights.
This vintage guide book was published in 1988. It features the art work and architecture in wonderful detail.
This book will whet your appetite for travel in the future.