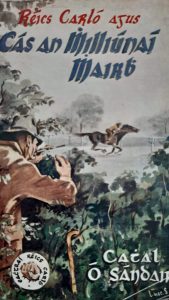 Cás an Mhilliúnaí Mhairbh was first published in 1955.  The English translation of the title is The Case of the Dead Millionaire.
Some people think Irish crime fiction began around 2008/2009, as economic boom turned into stagnation and austerity. Not a bit of it. Irish crime novels are as old as, well, Cathal Ó Sándair for a start.
Ó Sándair (1922–96) was born in Weston Super Mare in England but moved to Ireland when he was a kid. He went on to create the character of Réics Carló, still the most famous detective in the Irish language.
In fact Ó Sándair was the most prolific Irish-language author of all time. He was probably one of the most prolific Irish authors in any language. He is reputed to have published 160 books.