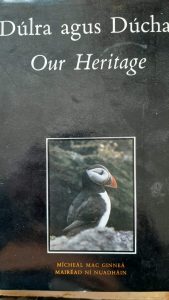 This is an illustrated guide to Irish natural history, habitat and environment. The book is aimed at a younger readership.
It introduces the reader to the natural environment and to some of the folklore which is associated with various plants and animals.
The book is bilingual in English and Irish. There are many fine illustrations throughout the book.
A lovely introduction to Irish culture and heritage.
The book was edited by Mícheál Mac Ginneá and Mairéad Ní Nuadháin.