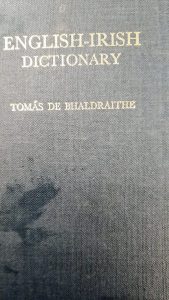 This English – Irish dictionary was published in 1959. This first edition was edited by Tomás De Bhaldraithe.
De Bhaldraithe is credited with making the Irish language more accessible to the general public with the publication of the dictionary. At last people could check up the meanings of words and phrases.
This was a great service to many students and helped them with their school and college examinations.
There have been many imitations but this dictionary is the original and by far the best.
Our copy is in excellent condition.  However it is missing its dust jacket.