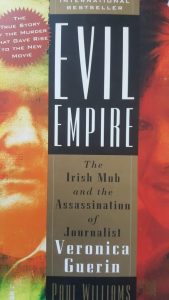 Ruthless godfather John Gilligan controlled a colossal drugs empire and a mob of gangland's most dangerous criminals. Violence and the threat of murder kept terrified witnesses silent and other gangsters in fear. Gilligan thought himself untouchable and above the law – until his gang crossed the line by executing crime journalist Veronica Guerin.
In Evil Empire Ireland's top crime journalist Paul Williams tells the chilling inside story of Gilligan's rise to power, his savage gang and the truth about the horrifying murder that shocked the world.
He also describes the intense behind-the-scenes drama of the four-year investigation that would smash 'Factory' John's evil empire and reveals Gilligan's prison assaults, the gang members' bids for freedom and the controversies that dogged the main players.