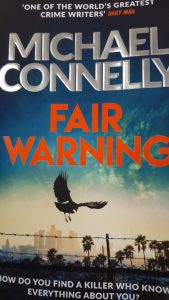 Veteran reporter Jack McEvoy has taken down killers before, but when an acquaintance  is murdered in a particularly brutal way. McEvoy realizes he might be facing a criminal mind unlike any he's ever encountered.
McEvoy investigates and makes a shocking discovery that connects the crime to other mysterious deaths across the country. But his inquiry hits a snag when he himself becomes a suspect.
Connelly has written another great mystery story with many twists and turns to keep the reader guessing.