Full Circle is a record of the Presbyterian community in Ballybay, County Monaghan.
The book shines a light on the lives of the community. It  is set against the background of social, political and religious change over the years.
This volume is the result of years of meticulous research and which has been carefully presented to show the strong faith which the community hold very dear.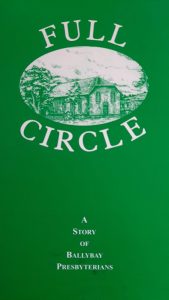 Our book is in excellent condition and is a first edition. The book was published in 1999. The dust jacket is in a vivid green colour and features the first church in Ballybay on the cover.