In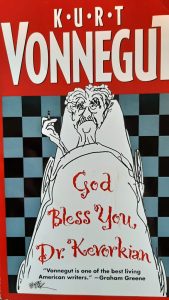 , Vonnegut skips back and forth between life and the Afterlife as if the difference between them were rather slight.
What began as a series of ninety-second radio interludes for a public radio station, evolved into this provocative collection of musings about who and what we live for, and how much it all matters in the end.
From the original portrait that graces the cover, to a final entry from Kilgore Trout, God Bless You, Dr. Kevorkian remains a joy.