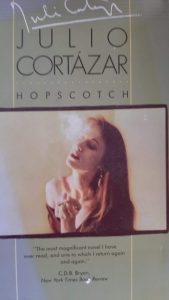 Horacio Oliveira is an Argentinian writer who lives in Paris with his mistress, La Maga, surrounded by a loose-knit circle of bohemian friends.
A child's death and La Maga's disappearance put an end to his life of empty pleasures.
Oliveira to return to Buenos Aires, where he works by turns as a salesman and a keeper of a circus cat which can truly count.
Hopscotch is the dazzling, freewheeling account of Oliveira's astonishing adventures.