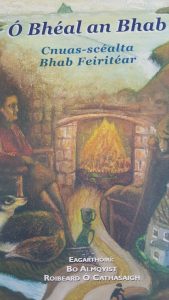 Stories from the Kerry seanchaí, Bab Feirtéar, with dialectal notes by Roibeard Ó Cathasaigh and Bo Almqvist. This beautiful collection features a book As Gaeilge (book in Irish) and two CD's of Bab telling her stories in Irish.
Indreabhán, Conamara: Cló Iar-Chonnachta published this rare collection in 2003.
A real West Kerry Gem.