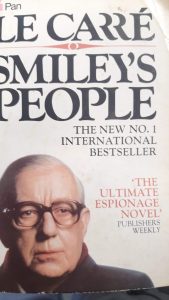 Smiley's People is one of the best spy stories ever written. Our vintage copy features a photo of Alec Guinness as George Smiley on the cover. This photo was taken from the iconic BBC production.
John Le Carré's classic novels deftly navigate readers through the intricate shadow worlds of international espionage.  His knowledge and have earned him and his hero, George Smiley unprecedented worldwide acclaim. A classic worthy of the word.
This is one of the many vintage paperbacks that we have in stock.