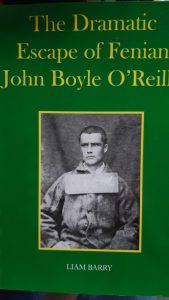 Arrested for treason against the British Crown and deported to the penal colonies of Australia, the Irish revolutionary John Boyle O'Reilly managed to escape to the United States.
Within a few years became one of Boston's most prominent political and literary figures, one of the best known Irish immigrants in the United States.
This rare book by Liam Barry traces Boyle O'Reilly's career from his early life in Co Meath to his transportation to Australia. The final section deals with his political career and personal life in Boston.
The book features many fine illustrations. Included is a pamphlet on Fremantle Prison, where Boyle O'Reilly escaped from.