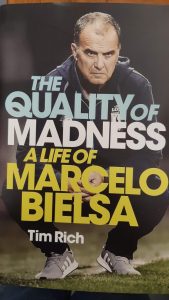 The Quality of Madness is sub titled A Life of Marcelo Bielsa. He is currently head coach at Leeds United in the English Premiership.
Before he came to Leeds, Bielsa had a long a distinguished career as a coach both in South America and Europe.
He is known for his unorthodox training methods.  These methods make his players fitter than their opponents. This is in turn means that they can implement his rigid game plan.
Bielsa has transformed the fortunes of Leeds United. Hopefully he can lead the club back to the top of the league.
Marching on Together.