Warrior was first published in 1934 tells a wondrous tale.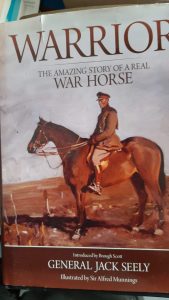 It is told by Winston Churchill's great heroic friend, Jack Seely, about the thoroughbred horse he took to France in 1914.
Both man and horse survived five years of bombs and bullets to lead a cavalry charge in 1918.
Returning home where they rode on together until 1938, their combined ages (70+30) totaling 100.